It was the morning of 12th July 2020. I was on my regular field visit to Ramdevra satellite enclosure of Desert National Park in Rajasthan. While driving along the dirt trail, an unusual event caught my attention. An eagle was chasing a female Great Indian Bustard in the sky, the eagle was flying a little higher than the bustard and was trying to approach from the top. The chase went on for a few minutes, then the eagle turned and took a different direction. I decided to follow the eagle to see it closely and identify the species. However, within a few minutes, I lost the eagle and so I carried  on with my general patrolling routine. As I took the next turn, I was surprised to see dust clouds ahead of me, obscuring some kind of  vigorous activity. Eventually the dust settled down, revealing a Bonelli's eagle struggling to hold a female bustard in his talons! They became still as soon as they saw the vehicle. I was very confused about my next step. On the one hand it was a rare natural history moment which was happening in front of me; and on the other hand, a female bustard (an important individual of just a few remaining GIBs) was dying before my eyes. I decided to call Mr. Devi Singh, the forest guard who was patrolling with me on another trail close by. While waiting for him to arrive, my heart won over my mind and I decided to intervene. I made a noise, and the startled eagle loosened its grip. The bustard took advantage of this to strike back and open her wings in threat. As she spread her wings, the eagle struck once more, its talons slashing her abdomen. Despite this, the bustard fought back, until a few minutes later the eagle gave up and flew off. Even after getting injured, the bustard did not leave the site until the eagle left. They both went a little further away and we decided to call our seniors and a veterinary officer to handle the situation. After noticing the behaviour of the female bustard,  because she was not leaving the site even in presence of the eagle, we were sure that she had something important close by – either an egg or a chick which she was trying to protect. We looked around and found her egg and many feathers of the female around it. We immediately left the site since we wanted the female to come back and incubate the egg. However, even after an hour, she did not return to the egg. By then, other officials had arrived at the location. It was decided to rescue the egg, safely transport it to the GIB breeding facility and simultaneously treat the female. The female did not survive due to fatal wounds. However, her egg successfully hatched in the facility and the chick was named Leo. Leo is now 2 years old and is being reared at the breeding facility.
Leo Displaying at the conservation breeding facility

This is how my love for birds and research took shape..
I grew up in the city of Kota, and have loved being close to nature and watching birds for as long as I can remember. In my neighborhood, people used to put grains on their terrace and hundreds of parakeets used to gather every morning for a feast. I would wake up early in the morning to watch them feeding, fighting and perching on wires. This remained my daily routine for years until we shifted to a different locality. Eventually, I started rearing birds as pets. I was never interested in studies, most of my time after school was either spent looking for birds on a few remaining trees in parks close to our colony, or at a pet shop where I could see a variety of species at once. I was completely unaware about research and conservation until I graduated with a bachelors degree in agriculture sciences. One of my cousins, Atib, who knew about my love for birds, gifted me my first field guide "The Birds of the Indian Subcontinent" from which I learnt about the different kinds of birds. At around the same time, I got enrolled in the University of Kota to do a Masters in Wildlife Sciences. Here, I met a few wonderful souls, my best friends and my teachers who taught me a lot about wildlife (Rimung Tasso, Hrishika Sharma, Bhaskar Bhandari, Tehlu Singh and Vikas Verma). Together, we explored many wild habitats around Kota and learnt from each other. We met Mr. Ravindra Singh Tomar, former honorary wildlife warden of Kota, a wildlife conservationist and an avid wildlife photographer who generously allowed us to join him on his birding trips around Kota during 2015.
My curiosity and interest in research took shape when I got a chance to do my masters dissertation in Wildlife Institute of India with the Bustard Recovery Program, led by Dr Yadvendradev Jhala and Dr. Sutirtha Dutta. During my Masters dissertation, I studied the impact of powerline mortality on birds of the Thar Desert, with a special emphasis on Great Indian Bustards. I learnt from two of the best wildlife scientists I could ever meet – Dr. Sutirtha Dutta and Mr. Bipin CM. and got a chance to work with two of my dream species – the Great Indian Bustard and the Lesser Florican. Dr Dutta has mentored me since the beginning  of my career and has guided me at every step.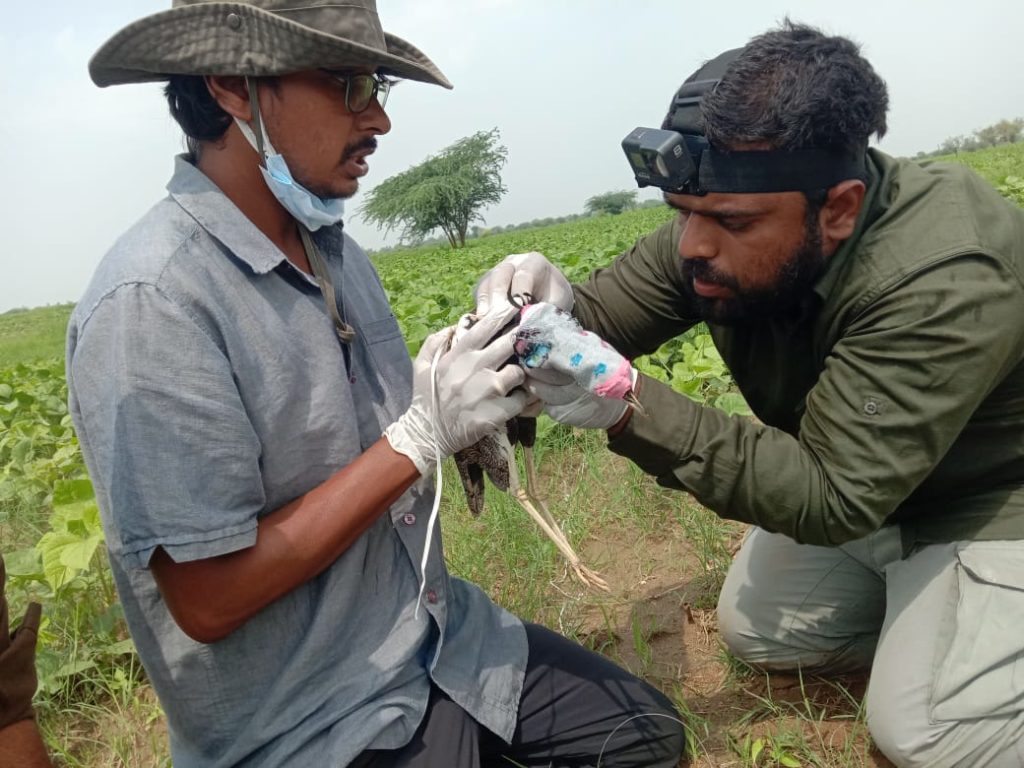 Dr. Dutta and me tagging a male lesser florican in Ajmer, Rajasthan

After finishing my master's dissertation, I continued working with the Bustard Recovery Program. Since then, I have been involved in conducting project activities which includes intensive work on both in- and ex-situ aspects. I have been lucky to work with many amazing researchers during this journey who eventually became part of my life and have been there to support me during ups and downs of my personal life (Hemlata Joshi, Tushna Karkaria and Sourav Supakar to name a few). I can't thank Dr. Asad Rahmani, Dr. Devesh Gadhvi and Dr. Satya Prakash Mehra enough, who have mentored me over a very long period of time.
My work on the Great Indian Bustard and Lesser Florican involves conducting population estimation surveys, nest searches, threat assessments, demographic surveys, trapping and tagging individuals and ground tracking tagged birds, along with capacity building and outreach activities with local stakeholders. Lately, I have been involved in establishment and management of bustard conservation breeding facilities in Rajasthan. I have been helping in developing bird cages, aviaries and other bird holding areas. A bit of my time goes into bird husbandry activities as well.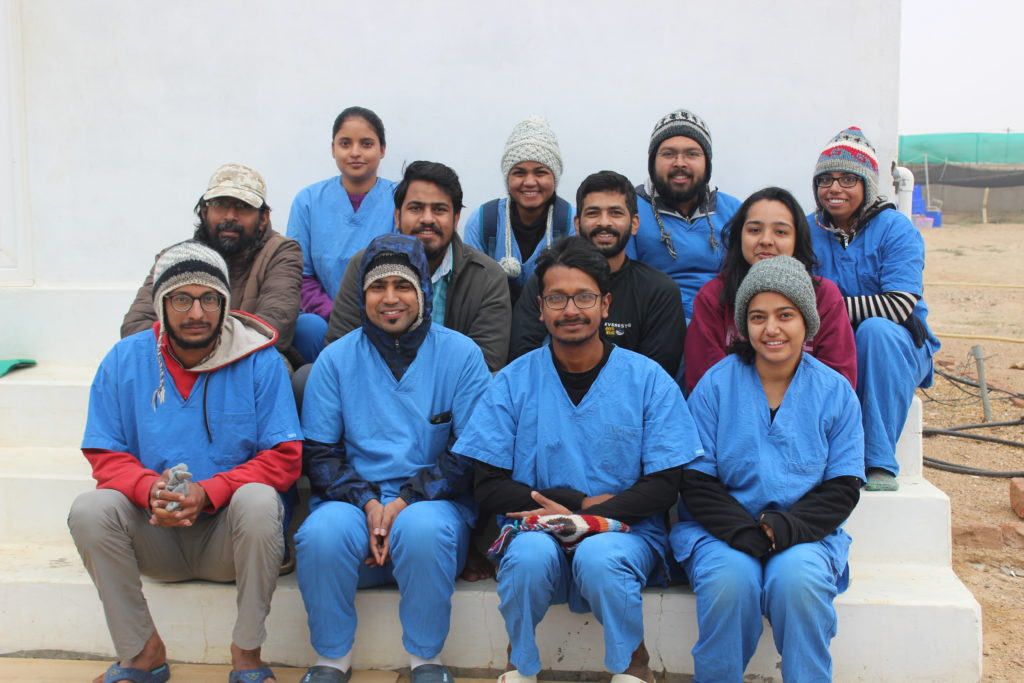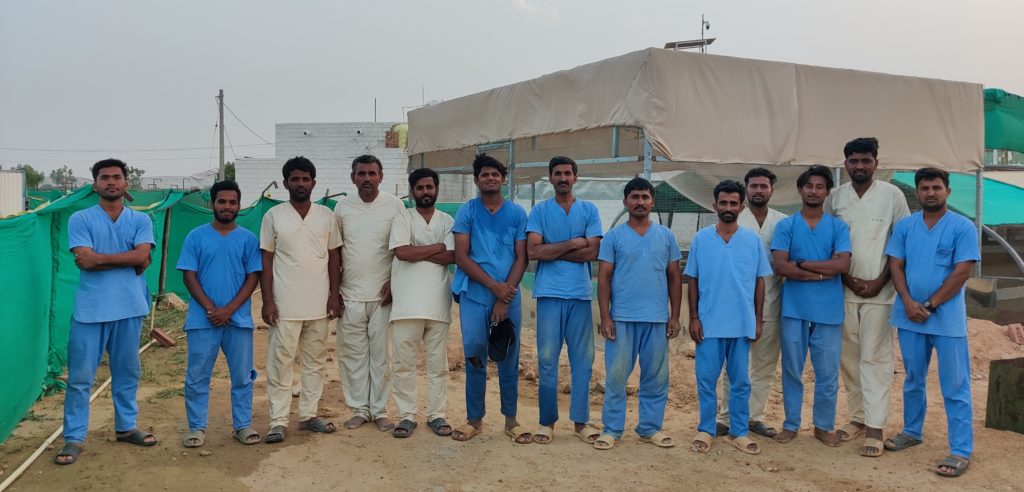 A few of the many faces from our huge team dedicated to the bustard conservation

I love what I do because…
Spending time in the field and observing bustards is what I like the most. Our team has been working really hard for the conservation of bustards, however, to help the species survive, a lot more is still required to be done. Along with many other problems which need to be addressed, power lines need to be mitigated at the earliest for safeguarding the species in its natural habitat. As I could write it in two lines, the bustard call would be..
"Be it day or night,
You can see what is our plight,
People are fighting on wrong and right,
Who can tell if our future is bright,
Be that home or any other site,
We will end up dead,
It's a matter of a flight…"
First tagged GIB "Hope" from Thar landscape

Challenges I have faced..
My first challenge was to convince my family to allow me to work in the field of wildlife, but now, they are my main support through any challenge I face. To financially support the family with limited earnings is very difficult. One of the main challenges so far has been to see the "on ground effect" of our research on conservation and management planning. Having traveled  a long road and with remarkable efforts of many others, we are now starting to see the effect as the Honorable Supreme Court passed an order regarding powerline mitigation in current bustard ranging areas of Rajasthan and Gujarat. Following this order, the powerline agencies too, have started taking steps towards powerline mitigation. Apart from this, managing a huge number of staff, understanding and fulfilling their requirements is quite challenging. The long delays in permissions and fund release, and delays in work due to that have given us some hard times as well.
Carcass of a male GIB which died due to power line collision in Jaisalmer. Photo credit: Bipin CM

My advice to young researchers is..
I have seen many young researchers coming to the field and leaving very soon due to the unexpected field burdens. It is very important to leave your comfort zone the moment you decide to become a field biologist. Things take time to take shape and you should wait for the right time to take the next step. Don't ever let your curiosity get down. Explore as much as possible. Try to learn from each and every person you meet. Sometimes when you approach a senior scientist, they might not reply at once but keep knocking on the door until you get what you want. Keep working hard because actions speak louder than words. Try to spend enough time with your family, I know it is difficult most of the time but believe me it will help. And last but not the least, take good care of your physical and mental health.
Mohib Uddin
[email protected]
Bustard Recovery Program,
Wildlife Institute of India, Dehradun
Twitter handle
Facebook profile