I believe that when you step outside your house and pay attention, you might find something amazing that you have never seen before. Nature will always surprise you if you observe. For me, working in the field has always been a fantastic experience: I have experienced a Bearded vulture dropping a bone next to me while recording and encountered the mesmerising courtship displays of Golden Eagles in the Himalayan mountains.
One such recent memorable experience was when I was doing fieldwork on Misapulimala, one of the highest sky island peaks in the Western Ghats. I was looking for Nilgiri Pipits in high elevation grasslands. Suddenly, I heard pipit alarm calls and a few pipits flushed from the grass near me. From experience, I knew that a bird of prey had frightened them. Before I finished processing these thoughts, I felt something swiftly fly very close to me, making a "zooop" sound, like a bullet. And then it happened again, even louder than before. I felt the wind on my arm, and heard "zooop, zooop" sounds again, from much closer this time. After several long seconds, I realised what was going on – I was witnessing a chase between two of the fastest creatures on earth– the Shaheen Falcon (Falco peregrinus peregrinator) trying to hunt an Alpine Swift (Apus melba). Seeing such a hunt on TV is remarkable already; it was an epic experience in person.

This is how my love for birds took shape..
I grew up watching David Attenborough, Steve Irwin, Nigel Marven, and Jeff Corwin and they still inspire me. I have always been interested in the wildlife around me; this interest started with a dusty book in the library called 'Common Birds' by Salim Ali and Laeeq Futehally. I took the book in my hand, and my interest narrowed down to birds. In 2009, I attended a birdwatching camp organised by the Bird Conservation Society of Gujarat (BCSG). Here, I got introduced to the birding community in Gujarat and received more information about our feathered friends. After that, I started exploring birds and snakes around my village Saladi (Amreli, Gujarat). I am greatly inspired by the works of Salim Ali, Dharmakumarsinhji Raol, Lalsinh Raol and Ravi Sankaran. 
I never thought of ecology as a full-time career. I did my bachelors in Psychology, which has helped me a lot while observing animals. After an interval of a few years, I did my Masters in Environmental Science. A lot of my interest in ecology and birds got a clearer direction after my first stint of official fieldwork with Dr. Sahas Barve in Kedarnath, Himalayas. I learnt recording techniques and how my simple hobby of recording calls can help in research and conservation. After fieldwork in the Himalayas, I worked for a few months at BNHS with the Vulture Conservation Program in Gujarat. In 2017, I joined IISER Tirupati as a project student at the avian acoustics project, where I got a chance to interact and learn from the broader scientific community. I strongly believe that a small internship/project can surely help understand the logistics of carrying out independent research. 
Currently, I am working as a Project student with the Long Term Ecological Observatories (LTEO) Project. I am studying the avian community in the Palani hills and the Nilgiris sky island landscape in the Western Ghats. I am using bioacoustics as an important tool to understand the environmental and anthropological effects on birds. I am using autonomous recorder units to conduct long-term ecological monitoring of sky island landscape Western Ghats.
Viral measuring a white-throated kingfisher  
I love what I do because…
I have always loved spending time in the field. Being in the wild is one of the best experiences for me. A lot of work involves observation, collecting acoustics data, and banding. Observing birds up close in your hand is indeed something else. Listening to and recording birdsongs is just fascinating. I will never get over it for sure. Every day in the field is exciting and unpredictable. After collecting data in the field, my work involves listening to bird calls from recorded files. It is interesting to listen to the calls of birds from all across the Western Ghats. It makes you feel like you are in the wild!  Extracting information from acoustics data helps us understand changes in the landscape that we might not be able to see in the field. I am also interested in learning new methods and techniques for analysis. I like to engage with and help other researchers and students too.

The challenges I faced..
It is always difficult at the start, for sure. When I heard a lark mimicking a few years back, I started recording its calls with a basic phone. As a teenager from a middle-class family with limited pocket money, I could not afford professional equipment. So I did some research and started making my own gear, 'jugaad' (DIY), using truck headlights and other random things from a scrapyard. From utensils to cattle fodder, I tried every possible thing and built my recording gear from scratch. So imagine, when going for recording, carrying such weird-looking equipment on my bicycle, I provided such entertainment for the villagers. Even in a birding community, everyone has a camera, and you are alone, standing out from the crowd. But with the same jugaad-built equipment, I managed to record 500+ species of birds. I was lucky to have fantastic support from my family and friends; it would not have been possible without them.

Another big challenge was that being from an Arts background (Bachelors in Psychology), I faced difficulties to join research teams since most of the positions required certain educational qualifications. I am sure there are many students like me who realise their passion in ecology after their bachelors degree, but it's never too late to find your ikigai.

I believe that dealing with the world/society is not a challenge. It is about dealing with yourself and keeping your focus and motivation high, which is important.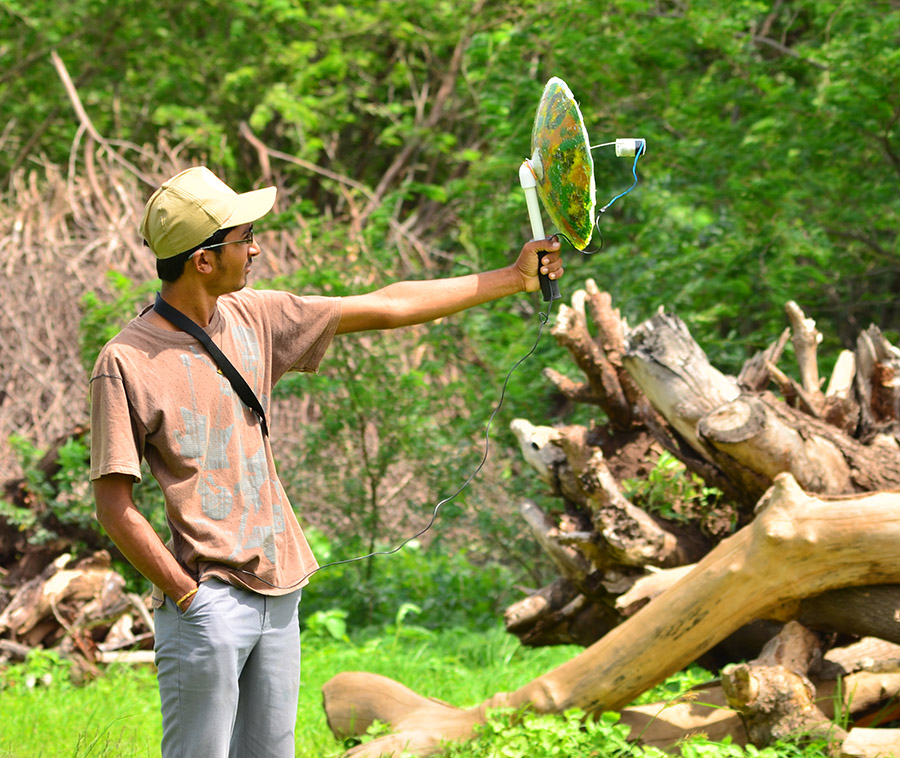 Viral with the recording gear he made from scratch using kitchen utensils and truck headlights.

My advice to young researchers is..
It is important to understand what your skills are, and how good you are with those skills

Keep upgrading and updating yourself, since the field of research grows rapidly

Reach out and communicate with the best in the community

Attend conferences/workshops such as SCCS and YETI 

Even your small efforts are very valuable and important to conserve the earth. 

If you're interested and passionate, keep flying, keep running. If you feel exhausted, find a good perch. Take a pause, while you rest, preen yourself and start again.  

 Lastly, keep watching birds.

 
Viral Joshi
virjoshi892[at]gmail[dot]com
Project Associate
Indian Institute of Science Education and Research (IISER), Tirupati
https://www.skyisland.in/viral-joshi.html
Interests: Bioacoustics, avian Ecology
Twitter:@ViraljoshiLark
Xeno-canto:https://xeno-canto.org/contributor/ZX FYSIO PJJ