This is an  incident which happened in 2018, it was a time when I was working on tigers of Nandhaur landscape in the Nainital district of Uttarakhand. As a part of my fieldwork, I used to regularly visit forests and nearby villages. While everyone around was busy looking for tigers and elephants, my eyes were always on birds. One day, while returning after installing camera traps, I saw a big brown bird flying by. It was something I had ever seen before, I was excited. On investigating the area further, I was blessed with an amazing sighting of a male Red-headed Trogon. Seeing this bird in the Shivaliks is a very interesting observation and marks the importance of the region for bird species. Further, this area gave me my first publication on birds which was published in "Cheetal". 
This is how my love for birds and research took shape..
I was born and brought up in a small village named Jingal located in Pithoragarh district of Uttarakhand in the Himalayas. Since childhood, I have been very close to nature, especially plants. I used to plant trees and even started making my own herbarium when I was in class 9. Further, with time, this interest moved from plants to animals and I did my graduation in Zoology (Hons) from Shri Guru Tegh Bahadur Khalsa College, University of Delhi, and masters in zoology from Jiwaji University, Gwalior, in 2016. I started taking interest in birds during my masters. All thanks to the Red-wattled Lapwing. In front of our university hostel were rocky fields and during summer nights, the whole area would fill with strange calls. The loud calls were quite annoying at times. So one day my roommate and I went out to investigate with a torch. To our surprise, we saw a bird with two chicks which would give out an alarm call. On further research, we identified the bird as a Red-wattled Lapwing. This was an amazing encounter and since that day, with every call, my interest in birds kept growing. 
While working on research projects at the Wildlife Institute of India, I got an opportunity to work in both the Western Himalayas and in the Terai landscape, thanks to Dr. G.S. Rawat, who was my supervisor then. Since I had an interest in birds, with time, I came across interesting observations. Both these areas have amazing bird diversity and it is interesting to see how resources limit the distribution of birds. When I tried to get more  information on this, I realised that there is a huge knowledge gap. This motivated me to get into the field of research on birds. 
Currently, I am pursuing my PhD in Wildlife Science from the Wildlife Institute of India under the supervision of Dr. R. Suresh Kumar. I study flamingos in Kachchh district of Gujarat. Kachchh is home to two flamingo species, Greater and Lesser Flamingos– which are also known as 'old world flamingos'. They are specialized filter feeders and forge by filtering food out of water. The Rann of Kachchh is the largest breeding site of these species in Southern Asia and every year, hundreds of birds arrive during monsoon for breeding. Along with the migratory population, there are resident populations of flamingos. I am studying the fine scale movement of these resident flamingoes using GPS-GSM transmitters and also trying to understand how fluctuation in food resources, i.e cyanobacteria and algae, influence space use by flamingos.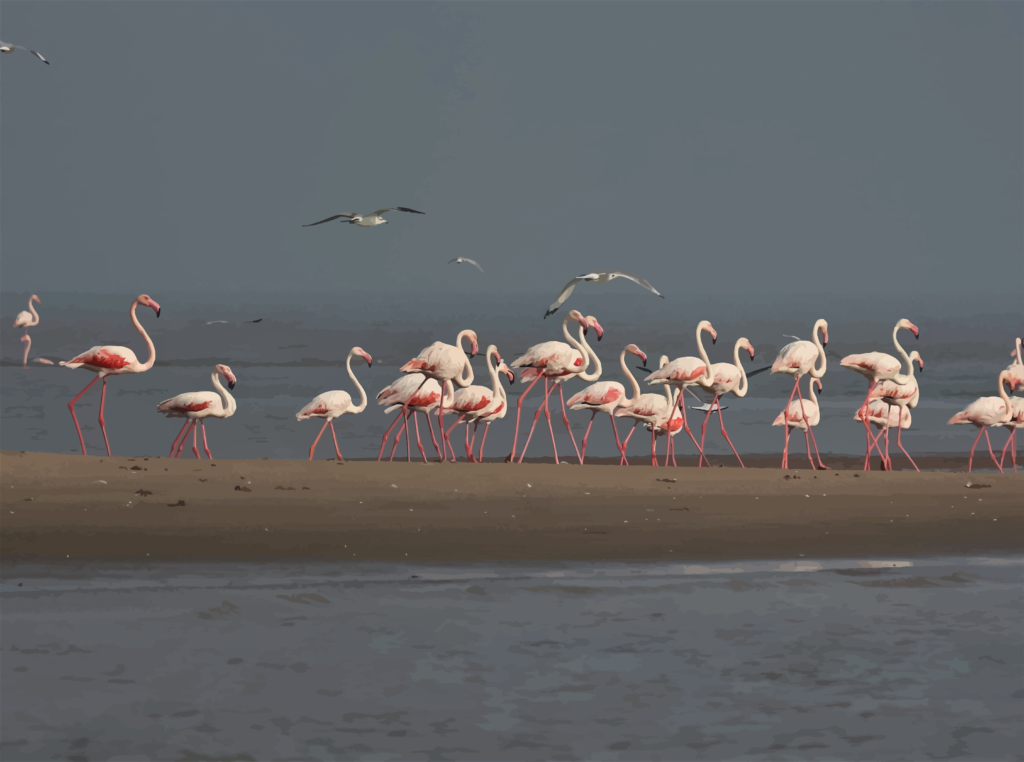 The coastline of Kachchh including the sandy beach is a unique habitat for Greater Flamingos. During the day, they forage on the beach and at night, move to nearby saltpans to roost.
I love what I do because…
Flamingos are waterbirds, and the physical and chemical properties of water are found to influence flamingos. Hence in my study I am also investigating how changes in the quality of water and abundance of food influence flamingos in the Kachchh landscape. This involves collecting water samples from wetlands and measuring the abundance of cyanobacteria. I love the cyanobacteria part of my work very much. Cyanobacteria are small microscopic organisms containing photosynthetic pigment (chlorophyll a) and are very rich in proteins. They come in various shapes and sizes and are a major component of the diet of flamingos, especially, the Lesser Flamingo, which is a specialist filter feeder. I visit lakes, collect water samples and then look at the water samples under a microscope to see little organisms floating around. For me, this is the most exciting thing.  Even a tiny drop of water contains a diversity of organisms which are often ignored, but they play a vital role in shaping our world. Most of the oxygen we breathe comes from the microscopic cyanobacteria and algae living in water. It will make anyone wonder how a microorganism is able to support a large bird like a flamingo which weighs about 2 – 3 kg. The answer lies in the fact that cyanobacteria (Arthrospira) which is just 10 microns in size contains 50-60% protein by mass.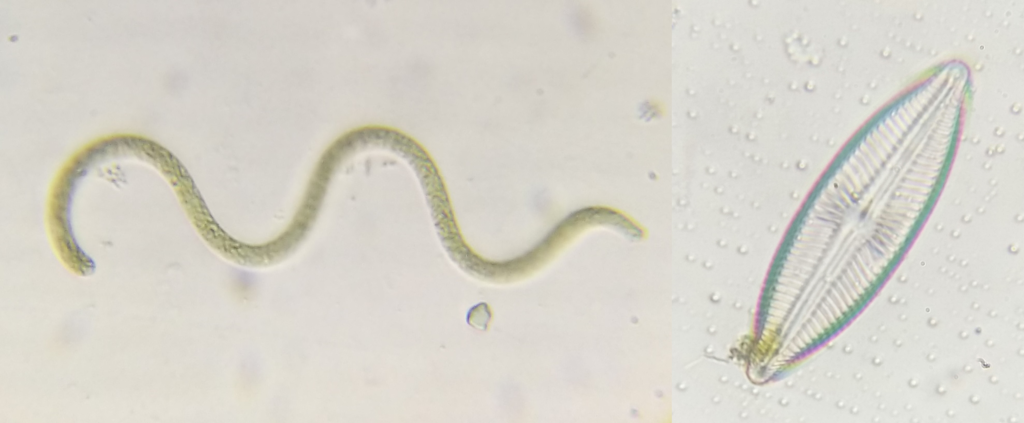 Cyanobacteria (left) and diatoms (right) are the main food items of Lesser Flamingos and are rich in protein.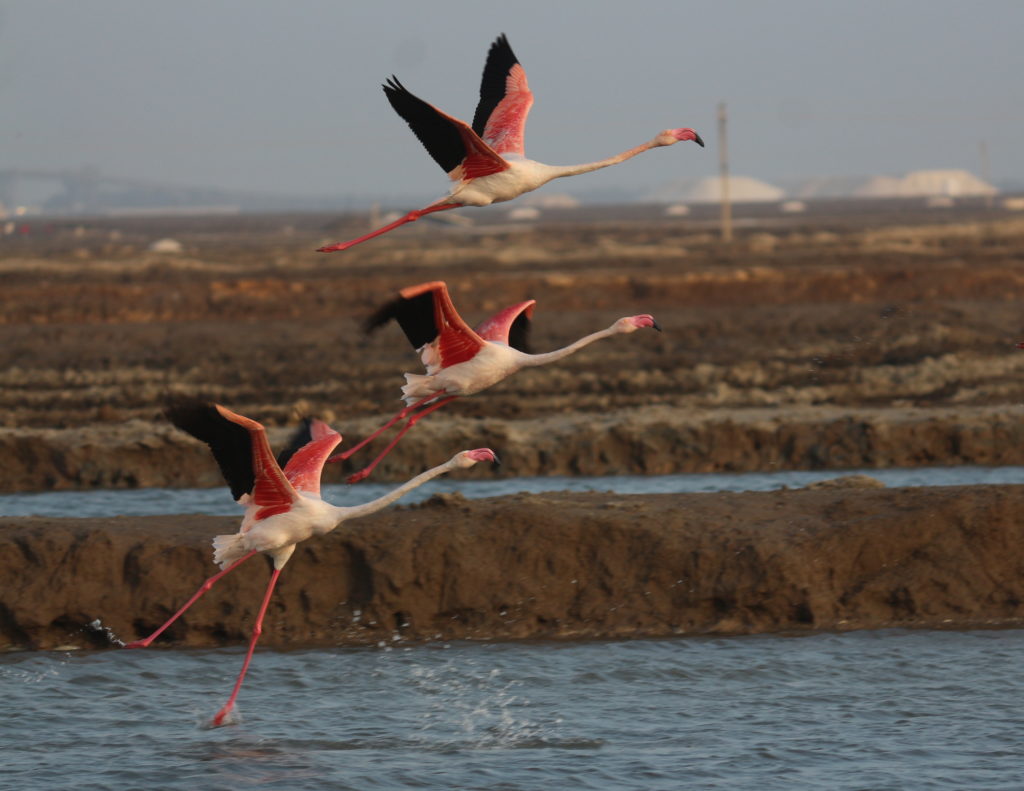 The brilliant red plumage of flamingos is attributed to carotenoid pigments from their diet. They get these pigments from cyanobacteria, diatoms and shrimps on which they forage. 
Challenges I faced..
Being from North India and working in a very different hot-saline environment has been challenging. I mostly work alone in Kachchh, and have to regularly visit saltpans across the coastline. Most saltpan workers speak only the native Kutchi language and don't understand Hindi. Language is a major barrier and due to this, I have been treated with suspicion and not allowed to enter saltpans. With time, I have made pamphlets with information about my study on flamingos. The pamphlets help the saltpan workers better understand me and I am allowed to do my surveys in the area. One has to overcome barriers and adapt, which is the basic rule of life on earth. 
My advice to young researchers is…
In the early stages of your career, you need to be a generalist, grab opportunities and learn. When you have a strong foundation, you can always be a specialist. I see many young researchers birding and making eBird checklists to count the number of species they have reported and using that record to judge their skill as an ornithologist. Seeing more and more bird species and being able to identify bird species across landscapes is always helpful but not enough to be a good ornithologist. In today's world of competition, one has to be an all-rounder and master many fields in order to achieve our ultimate goal.
Gaurav Sirola
[email protected] / [email protected]
Ph.D. Scholar, Wildlife Institute of India.
Twitter: https://twitter.com/sirolagaurav