I have a very spooky story from when I visited Nagzira wildlife sanctuary. I remember we were staying in the forest guest house right next to Nagzira lake. On one of the nights, we went for a night trail to experience the forest after dark. We stopped by the lake and were quietly listening to all of the forest sounds around us. All of a sudden, we heard this really loud scream, almost identical to a woman screaming. We all were terrified! Later, we were told that it was a Brown Fish Owl which had a nest on a tree right next to the lake. The whole experience, with the dark forest, its sounds and this sudden scream, was absolutely surreal! We also later got to know that the local people called the bird a" Chudail", a witch, and rightly so!
This is how my love for birds and research took shape..
I was always more comfortable spending time in nature since I was a child. But my interest in birdwatching grew when I started volunteering with NatureWalk outdoors, a local NGO in Pune which arranged birdwatching sessions in and around Pune. Pune has a thriving community of birdwatchers and being at the transition between the western ghats and the Deccan plateau, has a diversity of bird habitats. Tagging along with experienced bird watchers on birdwatching trips made me look at birds from an entirely different perspective. I started watching birds not just as fascinating creatures but also from a biological and ecological point of view. Birdwatching then became a beloved weekend hobby with like-minded friends and I really started enjoying birding in diverse habitats and chasing lifers!
Studying ecology had been on my mind since my Bachelors days, even though I was studying microbiology. The volunteering work during this time introduced me to the field of wildlife science as a profession and I decided to pursue it. Like most of the youngsters starting off in this field, I was attracted towards working in pristine, undisturbed landscapes and living the explorer's life. However, my Master's course trained me in asking scientific questions and I began thinking scientifically about the biodiversity closer to home. Hence, for my Master's thesis project, I decided to study the urban greenspace-bird relationship in Pune. This project introduced me to a plethora of questions that could be answered pertaining to the often-overlooked urban habitats and its biodiversity. However, I still wanted to gain field experience in forests, so I worked for a year and a half as a field biologist in the All-India Tiger estimation project in 2018. Visiting those forests for setting up camera traps, I got to observe several ecological interactions like competition, predator-prey interactions, niche segregation; and I kept wondering how these activities were altered in cities, which are heavily modified and degraded habitats.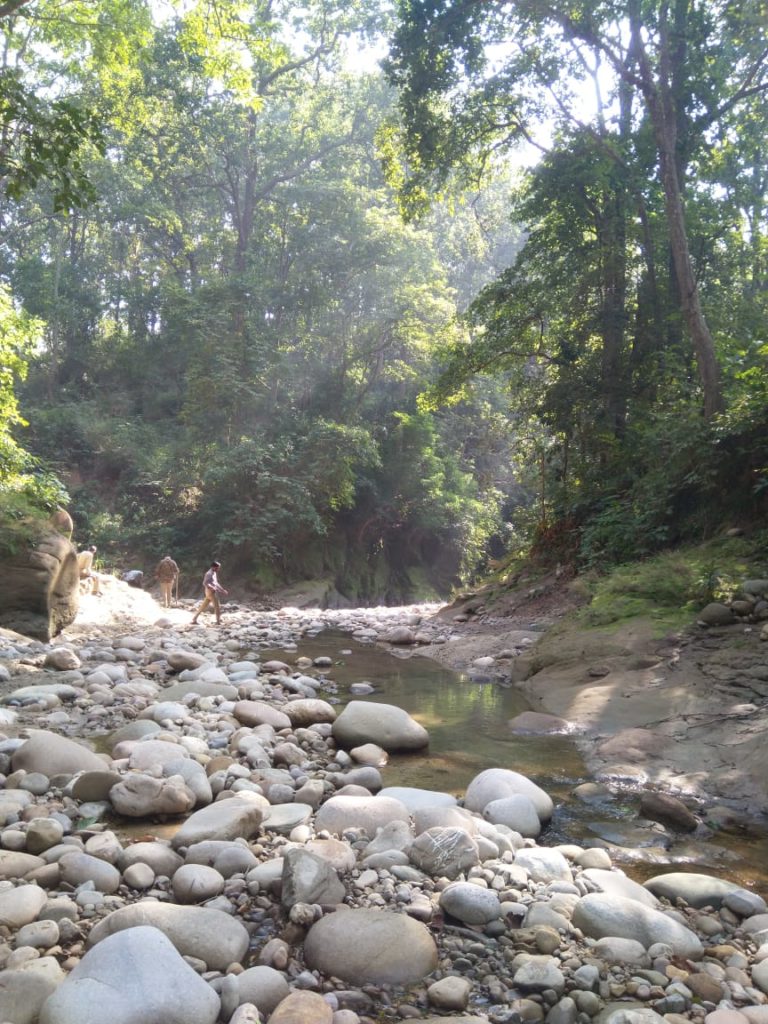 Typical landscape inside the core area of Corbett Tiger Reserve. Photo by: Swaroop Patankar

This strengthened my resolve to pursue a career of solving the puzzle that is urban ecology. Being an avid bird-watcher by that time, birds were clearly my species of interest to study in cities. Also, birds are an ideal species to study in urban areas as they are easy to detect and observe, are abundant and act as a bioindicators of the status of the ecosystem, especially a highly modified one like cities. After my stint in the Tiger project, I worked with Prof. Harini Nagendra at Azim Premji University to pursue my research in urban ecology. At APU, I reviewed the global literature on trait adaptations in birds in response to urbanisation. This review helped me understand the field at a deeper level and also helped me identify my specific area of interest, which is to study urbanisation-induced evolution in birds. I also wish to do a doctoral study on this aspect of urban ecology someday.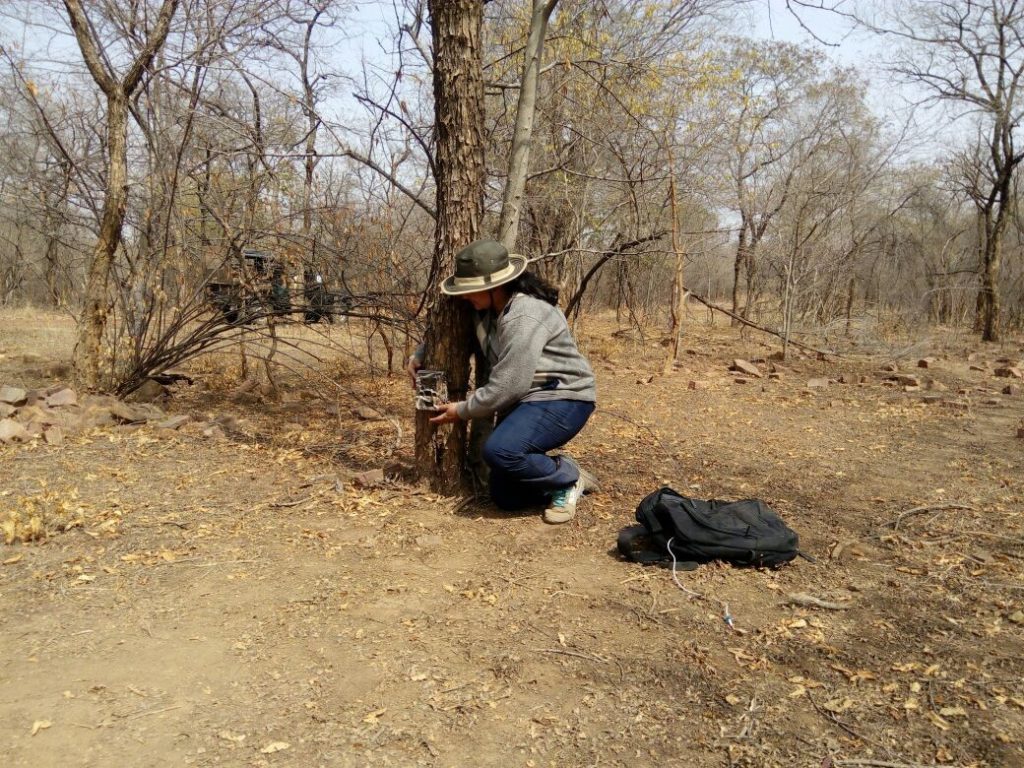 Deploying camera trap in Kuno Wildlife sanctuary. Photo by: Akshay Jain
I am currently working as a research associate at Azim Premji University, studying urban bird and mammal interactions with trees in Bangalore and Delhi. Cities provide ample food resources in the form of fruiting and flowering trees that are planted as a part of the city planning process. These include species that are also found in forests and some species which are a food source exclusively in cities. However, we still do not know how they are being utilised by the urban avian community. This project explores two questions. The first, which fruiting and flowering trees are used as a food and shelter resource by birds and other urban mammals. We are also trying to study the relationship of native vs. non-native trees with urban birds. The second objective of the study is to identify people's perceptions regarding urban trees. How stakeholders from different socio-economic backgrounds perceive urban trees and what kind of services and disservices do trees provide to the urban populace. We are also trying to study how the cultural and demographical differences in cities like Delhi and Bangalore affect people's perception of urban trees. This would help us identify the trees that provide the most ecosystem services in cities, which could act as a reference point for city planning projects as well.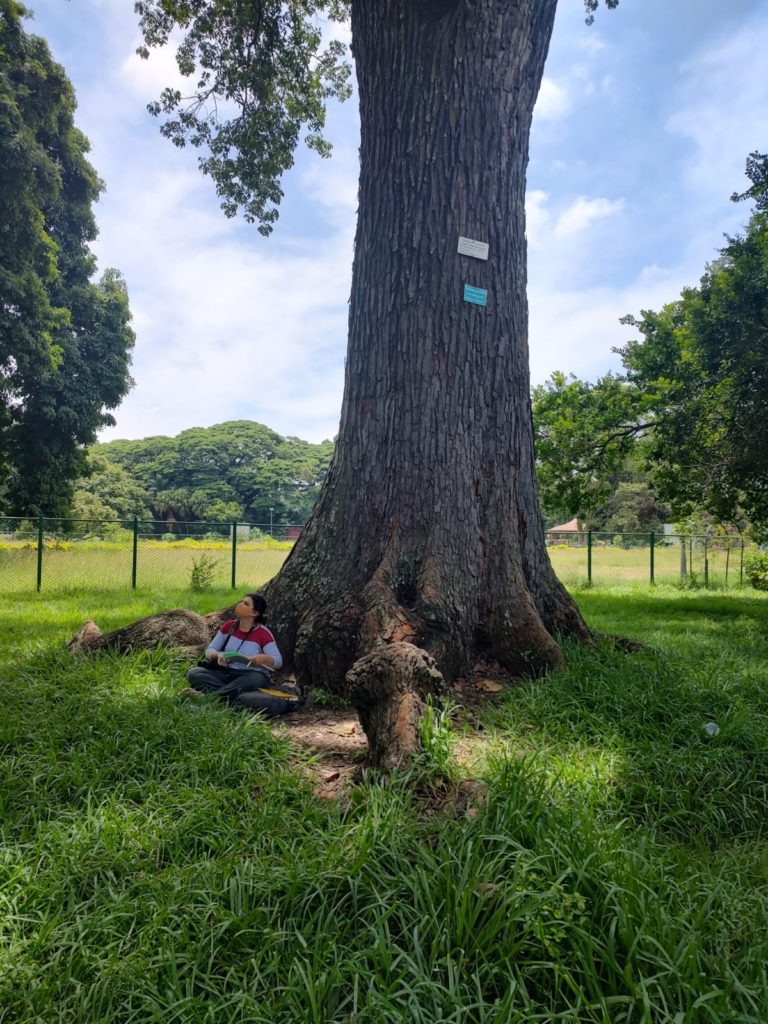 Monitoring urban bird-tree interaction in Lalbagh Botanical garden, Bengaluru. Photo by: Prof. Jayanti Mukherjee

I love what I do because..
Being someone who felt the most like herself in forests and after spending so much time exploring Indian forests, the decision to shift focus towards urban ecology was not an easy one. I was a bit disappointed that I would not get to spend as much time around natural landscapes. But I soon realised that urban green spaces have their own charm if observed from an ecological point of view. So, I like the fact that I get to stay close to nature while studying a human influenced landscape and pursue a career in ecology. It is also heartening to see the growth in citizen engagement in ornithological research, most of which has been in cities. I worked with the Bird Count India team for a year from 2021 to 2022 so I got to closely observe the level of citizen engagement and the resultant bird data generated on eBird from the remotest regions of the country. So, a huge secondary dataset is already available to work on. The gap between the scientific and non-scientific community appears to be closing in and this is crucial for the overall advancement of ornithological research and also conservation initiatives.

Challenges I faced..
Since I have started working on urban birds recently, I am yet to face any major challenges. But the field of urban ecology is relatively nascent in India compared to western countries and so there is not much infrastructure or lab settings available which exclusively study urban ecology. Large-scale, long-term systematic studies like banding surveys or bird geotagging studies are relatively few from urban areas, so background data on the ecology of many urban bird species is not available. I believe as a newbie to a recently established research field in India, I would be able to speak about the challenges once I progress with my research projects. One challenge of working in an urban landscape is I have to often do fieldwork in public spaces like public parks. So, safety can be a cause of concern. I always have to be watchful of my belongings and personal safety and can't do fieldwork alone in secluded areas. Also, park visitors who see me doing fieldwork will come up to me and engage in conversation which is a major distraction. Many of my sampling trees might be located in private gardens or areas with restricted access so I cannot sample them as sometimes it raises suspicion.
My advice to young researchers is..
The should dos:
I think being mentally prepared for working in the field prior to starting out is of utmost importance. Especially if working in a remote field site, it can often get lonely so cultivating hobbies or getting into the habit of reading books can be helpful in taking care of mental health. You should also be prepared and leave room for changes in sampling protocols, research questions and field sites.
Also, it is important to look for opportunities like volunteering or internships early on during the undergraduate studies to gain work experience and to explore as much as possible on your own. Learn from experienced bird watchers not just about bird identification but also their ecology and read as much published literature as possible related to your topic of interest. Ask a lot of questions. This will help in designing your own research questions. Also, networking and building contacts by attending workshops and conferences and interacting with experts in this field is crucial. Try to present your research in as many relevant conferences and symposiums as you can as you get constructive feedback which improves your research.
Also, if you are in the process of applying for grants or Ph.D. positions, do keep track of all the important deadlines and arrange for important documents like transcripts and certificates well in advance, since getting these from universities is a time-consuming process.
The should not dos:
As researchers who are passionate about their study topic, we often tend to overwork and not rest. It is important to have that work-life balance and it is ok to take breaks from work when needed. It is also important to stand up to anyone who has unrealistic expectations about work from young researchers. While it is important to stick to hard deadlines, it is not more important than your mental and physical health.
Don't underestimate the importance of self-study along with the knowledge you gain from your degree course, colleagues and seniors when it comes to learning different aspects of carrying out research like quantitative data analysis or programming languages like R. YouTube videos are a great starting point for this kind of self-study! Along with these, there are several free online courses and regular workshops that young researchers can benefit from!
Swaroop Patankar
[email protected]
Research Associate, Azim Premji University
Twitter: @SwaroopPatankar
Instagram: @swa_patankar