During the summer of 2014, I was volunteering for a project at Hollangapar Gibbon Wildlife Sanctuary to study the habitat ecology of squirrels. That summer was the best summer of my life; waking up with the calls of gibbons, tuning up with the sounds of cicadas and sleeping with the sounds of owls. One day, while working, I heard a Red Headed Trogon calling very close to us. I tried to listen and locate the bird and suddenly the bird came and sat in front of us, looking at us for around 10 seconds. We stood motionless and enjoyed each and every bit of that moment. It was the best day of my life.
The Red Headed Trogon of Hollongapar Gibbon Wildlife Sanctuary, which made it the best day of my life. 
This is how my love for birds and research took shape..
I was always attracted to nature but my fascination towards birds started during my M.Sc. in Wildlife Biology (Gauhati University) in 2012. It was a fine winter morning and I was roaming near the bank of river Brahmaputra in Jorhat District of Assam, when I suddenly realised that I had lost my way, and I found myself in a completely unknown area. I stopped a man passing by to ask about the road back, and suddenly saw two huge birds flying over. I followed the birds and tried to figure out where they landed. While searching for them, I saw another pair of huge birds swimming in a wetland far away from the road. I approached the wetlands and I was pleasantly surprised. The wetland was full of different species of birds. It was almost like a paradise of birds. The two huge birds turned out to be Spot-billed Pelicans, the flying birds were Common Cranes. I spent the entire day in the area, and counted more than 50 species of birds. That was the point from which I have always been looking up to birds.
As a student of wildlife sciences, I always had hundreds of questions in my mind. I have had a special interest in the grasslands, as they are diminishing at an alarming rate. Surprisingly, at present, only a few untouched, unprotected grasslands are left in Assam. I wanted to understand what is the present condition of these grasslands with respect to the threats, species composition, habitat condition, etc. While communicating with locals, I found that some people still hunt wild birds and eat their eggs. One such wild bird was the Swamp Francolin which is listed as Vulnerable in the IUCN Red List and is endemic to the Ganges basin and Brahmaputra valley. I took this species as the focal point for my PhD research, under the supervision of Professor Prasanta Kumar Saikia, to understand their habitat and how they are still thriving in unprotected grasslands with high human presence. I also received the DST INSPIRE fellowship for conducting my PhD research at the Department of Zoology, Gauhati University.
Currently, I am studying the impact of environmental parameters on the distribution of Swamp Francolin in Assam and also trying to understand the habitat and avian community of Garbhanga Wildlife Sanctuary (Proposed) of Assam.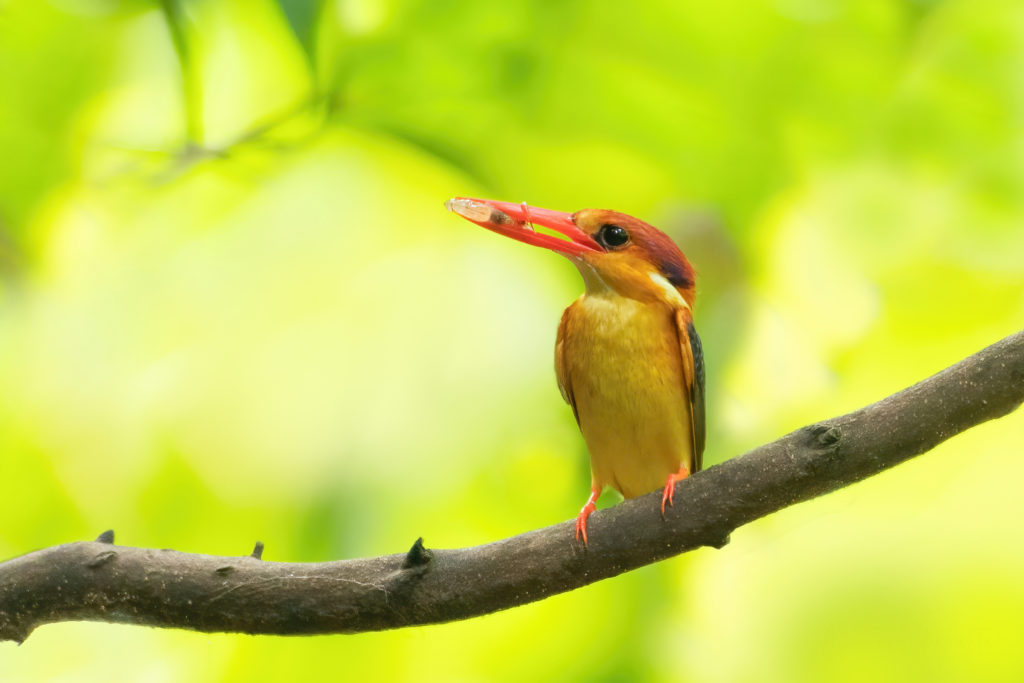 Black-backed dwarf kingfisher, star attraction of Garbhanga Wildlife Sanctuary (Proposed)
Photo: Nilutpal Mahanta
I love what I do because…
Birds are everywhere. They are good indicators of the changing environment and also an important part of our culture. I am in love with birds as they are an important part of my identity.  In ornithological research, the aspect I love the most is the relationship of any species to its habitat. I have always been excited by the fact that slightest changes in the environmental parameters such as temperature, rainfall, humidity etc. have a strong impact on the habitat as well as the species composition of an area. Recently, we published a paper on the impact of the environment and land use parameters on the distribution of Swamp Francolin in Assam, with the help of Ecological Niche Modelling. Surprisingly, we found that the distribution of Swamp Francolin has a strong affinity towards precipitation during the driest month; as it is a bird of swampy habitat. We found that it needs a minimum rainfall of 25mm even in the driest month (January) for its sustenance. 
Swamp francolin grazing in the grasslands of Jhanjimukh Kokilamukh IBA
Photo: Nilutpal Mahanta
The challenges I faced..
The unaware local community is the toughest challenge I have faced till now. During my PhD field work, I mistakenly entered a private property (as there was no demarcation between Government land and private property) and the consequences were not good. The owner came running towards us, cursing us on the top of his voice. So much was their anger that the lady owner even tried to throw sharp knives at us, assuming we were trespassers. It took us almost an hour to calm them down and make them understand our work.

My advice to young researchers is…
One should come to this field only if one is highly passionate about birds. Patience and proper planning is the ultimate tool for success. It took me one and half years of my PhD to acclimatise with the habitat and behaviours of Swamp Francolin. But once I understood the bird, trust me, till today, there has not been a single day that I don't get to see a Swamp Francolin when I visit my field site.  Young minds should incorporate more advanced analytical methods to study birds. Before starting any PhD research, I will always suggest that one should volunteer in ongoing projects to learn the basics of field ornithology.

Dr. Nilutpal Mahanta
[email protected]
Assistant Professor,
Department of Zoology, Assam Don Bosco University, Kamrup (m), Assam.
ResearchGate profile
Facebook profile
Instagram profile