There have been many memorable instances from the field, like the elusive White-winged Ducks flying over my head; observing the majestic Greater Adjutants at the Guwahati garbage dump yard and watching around 100 Wreathed Hornbills fly to their roost.  However, my fieldwork at the Manas National Park (Assam) provided me with a sight I would always cherish. In December 2019, when I was rafting and surveying raptors along the Manas-Beki river in the northern part of the Manas National Park, I witnessed an unforgettable event. As our raft moved east, I noticed an Osprey plunging into the river in search of a fish. It began flying up with a large fish in its talons after a good strike. Unexpectedly, two Pallas's Fish-Eagles, who were also fishing on the other side of the river, ambushed the Osprey as it took to the air. The two fish-eagles (perhaps a mating pair) attempted to chase away their rival and steal the prized prey. Following a lengthy battle, the osprey lost control of its prey and dropped it by the riverbank, providing an easy feast for the fish-eagles. The stunning aerial combat displays of two magnificent raptor species above the Manas River against the backdrop of the Bhutan highlands was a memorable spectacle.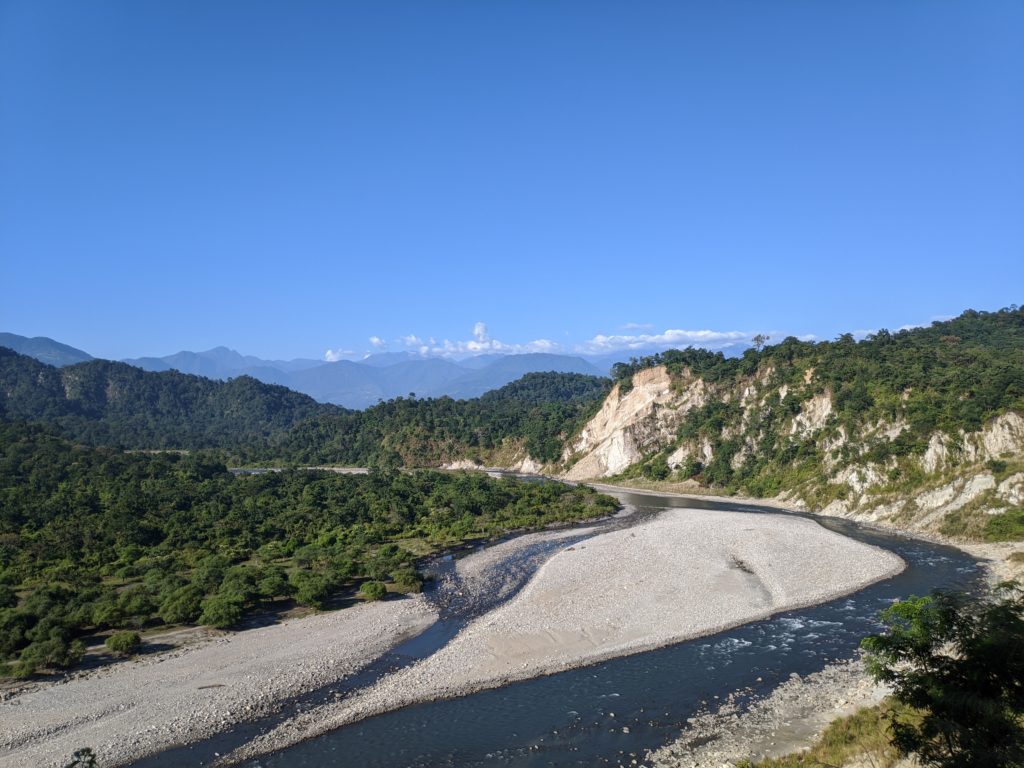 Bhabar-Terai interface of the Manas Tiger Reserve. Photo: Pranjal Mahananda
This is how my love for birds and research took shape..
I never knew anything about bird watching until my Masters. Before that, I knew some local names of common birds like sparrows, mynas and crows; all the other birds were just a 'yellow bird', 'brown bird' and 'green bird' for me. I got introduced to birdwatching during my Masters at Gauhati University, by my senior Jaydev Mandal.  Most people go birding to their backyards, forests or wetlands. Well, my birding journey started from Guwahati garbage dump yard (not a great place to be at, unless you are a birder!!), observing the foraging and feeding of hundreds of endangered Greater Adjutant Storks!. At the dump, some common birds  such as mynas, kites, swallows etc are seen too.  Gradually, I developed interests and started birding and eBirding on the university campus. I was amazed to see so many different looking birds inside the university campus. My bird watching hobby got directed into scientific research when I decided to study raptors in the urbanscape of Guwahati for my Masters dissertation.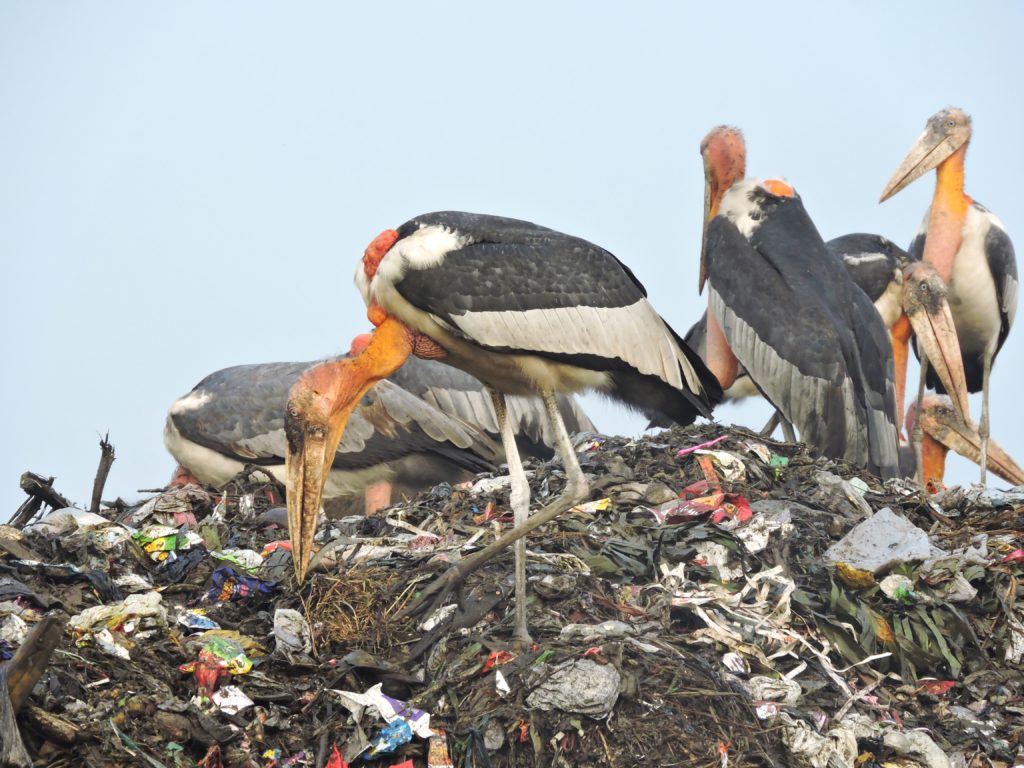 Greater Adjutants foraging at Boragaon garbage dump, Guwahati. Photo: Pranjal Mahananda
After Masters, I grabbed the opportunity to volunteer with Nature Conservation Foundation in their Eastern Himalayas Program. I assisted Dr Rohit Naniwadekar and his team in the Hornbill Telemetry project. During this time, we GPS tagged hornbills at Pakke Tiger Reserve (Arunachal Pradesh) and tracked their movements. This was my first intense field experience, as we had to wake up at 2 in the morning, reach the park and set up the mist nets before 4 am. I also had the opportunity to meet many researchers there including Dr. Aparajita Dutta. Talking to her and other researchers about their research opened new vistas for me and helped me develop many research ideas and thoughts on bird ecology.
Tracking hornbill movements at Pakke Tiger Reserve (2015). Photo: Sheetal Dako
Currently, I am studying raptor distribution and occupancy in Assam for my Ph.D. at Gauhati University, under the supervision of Malabika Kakati Saikia.  I am looking at the factors influencing raptor occupancy, and co-occurrence of interacting species. I conduct road transect surveys, and vantage point counts looking for raptors in different habitat types of Manas National Park, Assam. I always wanted to study these flying predators as they are an understudied group of birds in NE India, though found throughout the region.  This also led me to publish a paper in which we have reviewed the current status of raptor research in India by assessing 146 years of published literature.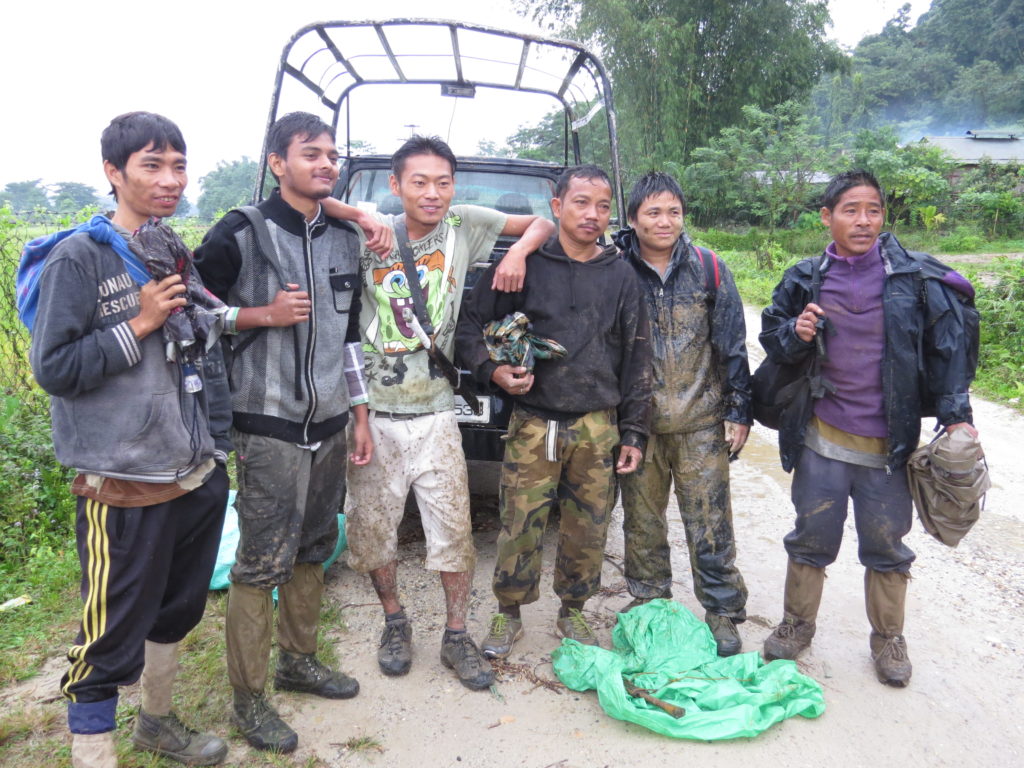 Team of the hornbill project at Pakke Tiger Reserve, Arunachal Pradesh (2015). Photo: Malyasri Bhattacharya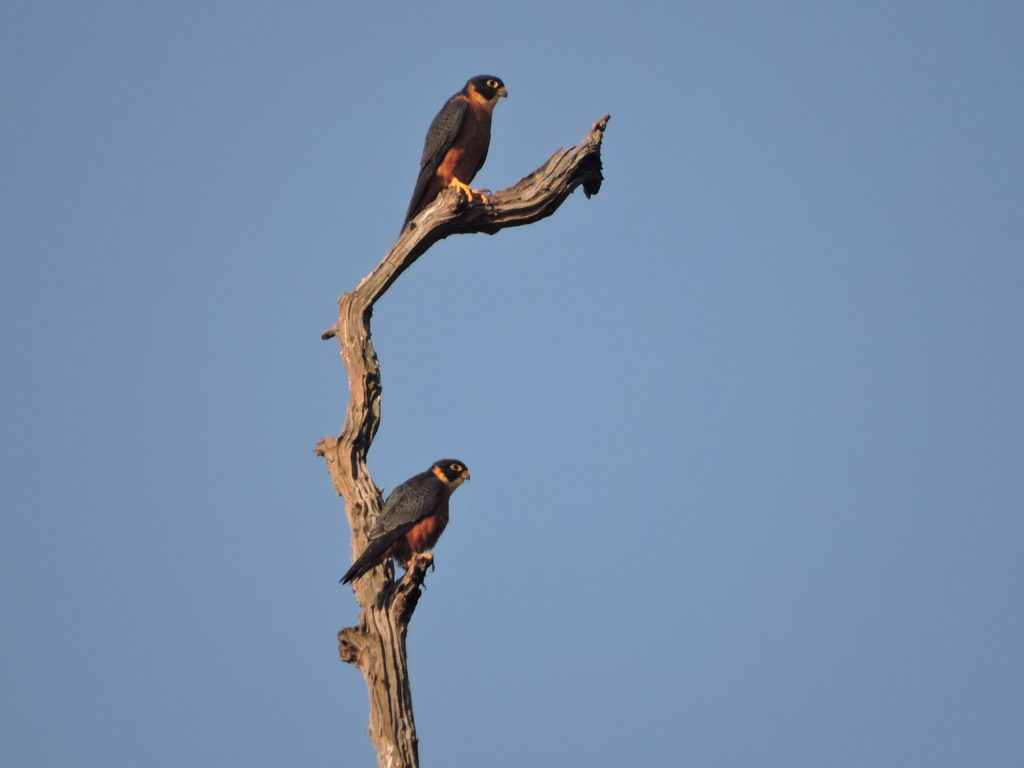 A pair of Oriental Hobbies at Manas Tiger Reserve. Photo:Pranjal Mahananda
I love what I do because..
My work involves birdwatching by default, which is always exciting. So, apart from my study species, I get to observe different birds.  Work takes me  to different places which harbour a variety of wildlife. Also, I get a chance to meet the local communities and understand their view on wildlife, and the traditional knowledge associated with them. My fieldwork also includes extensive surveys, for which I am accompanied by experienced forest employees, whose fascinating field tales provide us with insights into the region's flora and fauna.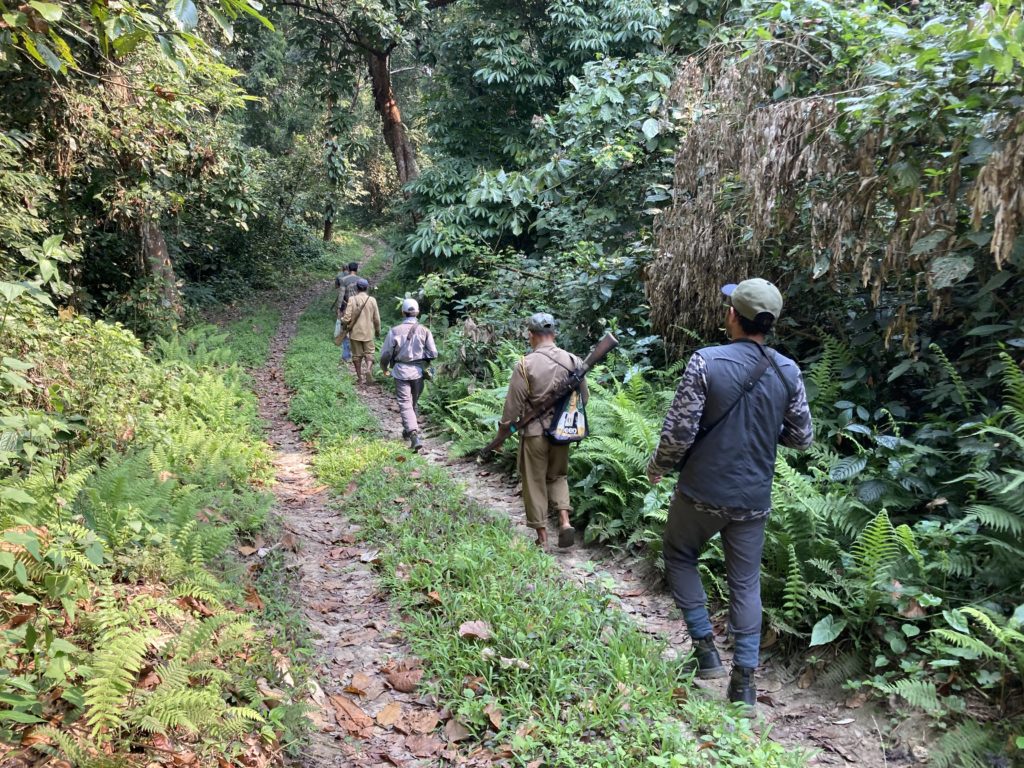 Field survey with the Assam forest department staff. Photo: Dr. Anjan Sangma
The challenges I faced..
Ornithological research, like any other discipline, is challenging. What appears simple on paper becomes complex in practice. Harsh weather, unanticipated situations, near-death experiences with wildlife, and other things obstruct our research. Field research is generally costly, and a lack of financing is another obstacle to completing a  study in the allotted time . Additionally, you may have a grant in hand, but obtaining clearance from the forest department may take longer than anticipated. Furthermore, research in remote areas is difficult since they require living in locations without electricity, making charging power-backed equipment and communication difficult.
My advice to young researchers is..
Keep an open mind when it comes to learning. Talk to your colleagues, seniors and juniors about your research and solicit their feedback.


Begin networking with people in your field. Collaborate with them. Attending different workshops and conferences where you can meet researchers working on the same topic is the greatest way to accomplish this.

Become familiar with Biostatistics, Excel, PowerPoint, GIS applications, as these will help you evaluate and present your findings. Also learn modern analytical skills.

Make an effort to learn the local language of the location where you are working. It's usually useful.

Start looking for different fellowships and grants and apply for them.

Acquire scientific writing skills.

Take advantage of all of the free online courses available to you.

Become a master manager.

Keep calm and enjoy your work.
Pranjal Mahananda
[email protected]
Ph.D. researcher, Animal Ecology and Wildlife Biology Lab
Department of Zoology, Gauhati University, Assam
Linkedin: www.linkedin.com/in/pranjal-mahananda-29ba53a5