The month of April. A fulgent morning in Harsil, a quaint hamlet en route to the celebrated pilgrim site of Gangotri. I was walking the banks of the Bhagirathi, a major headwater to the Ganges, to get estimates of the number of dippers, wagtails and river chats that breed here. I sat on a boulder with my eyes glued to my binoculars, the rays of the sun warming my back, my cheeks flushed by the chilly breeze. My attention was averted by an idiosyncratic tee-tee-tee, much like the sandpipers, though much louder and certainly unheralded. Two adult dull-hued birds with shiny coral long and curved bills were crossing the sparkling blue waters of the Bhagirathi fortifying two young ones in between. Unfortunately, on this occasion all I had on me was a pair of binoculars, a GPS and my field notebook and a pen. My camera had run out of battery as Harsil was devoid of electric supply for the past two days owing to incessant rains. I ended up scribbling the silhouette of the bird in my field notebook, carefully marking the details that my bespectacled eyes could chart. 
The birds landed safely on an island of pebbles and shingle, to my dismay, far away from where I was seated on a boulder peering through my binoculars. The adult birds busily probed their long curved shiny bills under the boulders and the expanse of shingle, while the not-so-young adolescents (with the signature black necklaced stripe on their breasts) stood watching. Infrequently though, they tried to copy the act. Hours passed and as the sun rose higher up in the sky, the birds walked stealthily on the riverbed to take shelter under logs which the river left as flotsam. Trying hard, I could not trace the birds anymore, and miraculously this esoteric episode seemed like a dream which evaporated into my reminiscence. I trudged back to my stay, and hurriedly looked at my bird guidebook, happy to add another lifer, the "ibisbill" to my tiny bird list. I have visited Harsil every year hence, although I was not lucky on all the occasions to get a glimpse of the coveted one. To me the valley of Harsil remains an unsung nexus; where I go back for research but with a defiant yearning to descry "them".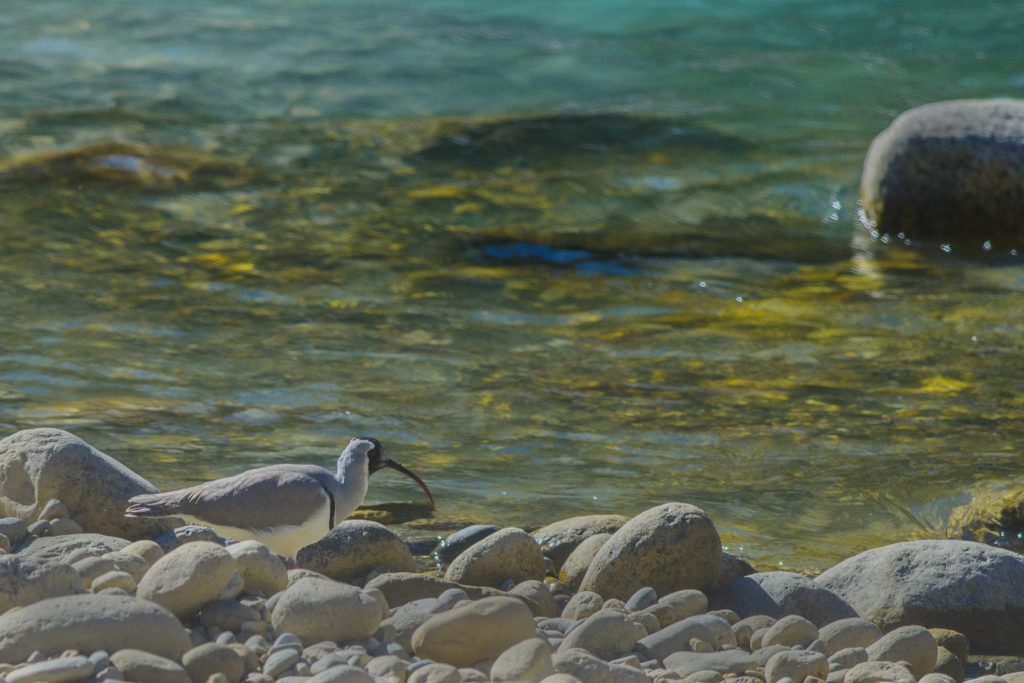 An Ibisbill on the bank of the Bhagirathi, a headstream of the Ganges in Uttarakhand. These birds remain well-camouflaged in their habitat, their plumage merging impeccably with the shingle river beds. Image: Nilanjan Chatterjee
This is how my love for birds and research took shape..
My childhood days were spent in the hills of Guwahati, very close to the banks of the Brahmaputra. Although I saw and heard a lot of birds in the premises of my school and my garden, I knew little about them. I could only learn about any wildlife during my formal education in Zoology at the University of Delhi and University of Calcutta. Field trips to Ranthambore Tiger Reserve, Dharmasala, Dalhousie, Kaziranga National Park and the Sundarban Wetlands as part of the course curriculum made me look beyond books and the laboratory. Although genetics was my favourite subject as a student, something deep inside craved to be outside in the wild. I chose Ecology for my special paper during my masters and this changed almost everything that I had planned for after college education. My decision to join the Wildlife Institute of India as a research fellow changed my career path entirely. It was quite intimidating in the beginning to meet people who would catch snakes, would identify birds listening to their calls, stay in jungles for more than six months at a stretch and don greens and greys.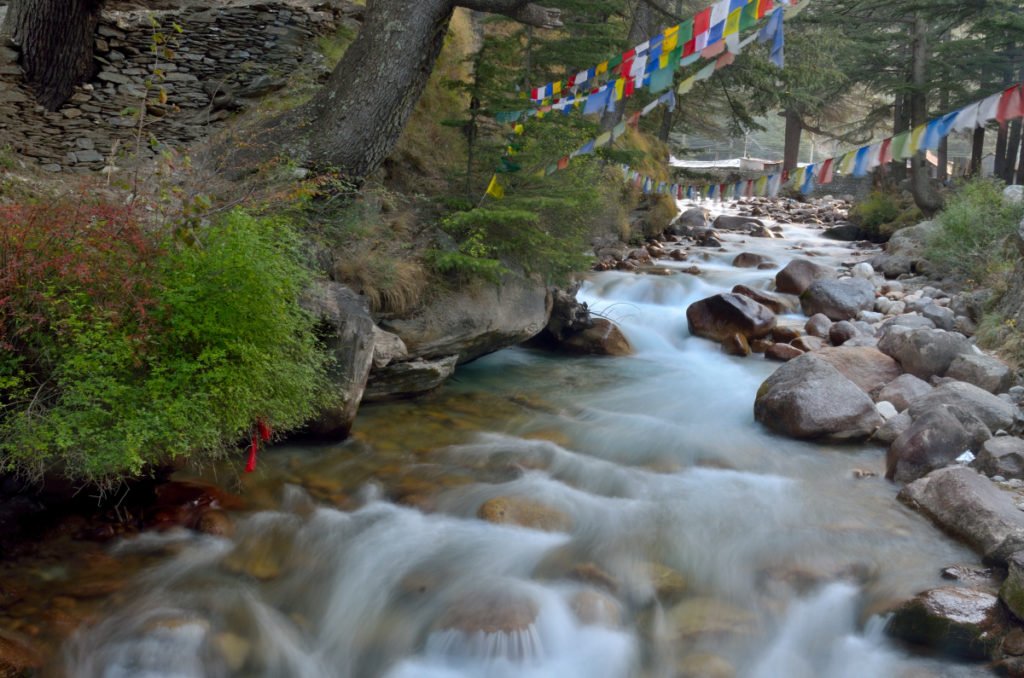 An upland stream in Harsil, Uttarakhand. Numerous such streams cascade down steep valley sides leaping over rock faces and boulder strewn slopes popularly known as the "whitewaters". Image: Nilanjan Chatterjee
My work responsibilities took me to the Garhwal Himalaya to study riverine vegetation and landscape change in riverine areas. When in the field, all I could ever do was grapple to spot the branch or rock from where the notes came floating or the dashing flying thing headed to. After a while, this became such a frenzy that I had to admit to my supervisor Dr Ramesh Krishnamurthy, that I am getting distracted by birds and could not finish the assigned task. Much to my surprise, I was not scolded and he said I should probably learn a little more about birds. I requested Dr Ramesh that I would like to work on birds as a side project and he agreed. 
There was no looking back. I started to talk to everyone on campus who would go birdwatching and sometimes would just tag along for birding trips even if I did not know their names. I ended up reading dissertation theses of previous alumni who had worked on birds and bugged anyone whom I got a chance to meet in person. A year later I could attend the DST-SERB School on Avian Biology where I met some of the top ornithologists in the country and was taught the basics of ornithological research. I learnt to find the right literature and found a few people who cared to answer my questions and led me to the right resources. 
Himalayan cascades are home to feathery creatures which have specialised to embrace  torrential mountain rivers. Mostly sombre, unlike their cousins who live in the forests, these birds that live along running waters became my penchant. I wrote to Prof Steve Ormerod, whose work from the Nepal Himalayas got me intrigued, to study these birds for my PhD. Fortunately, I could visit his lab  and the Water Research Institute at the Cardiff School of Biosciences funded by the Ravi Sankaran Inlaks Fellowship and the Commonwealth Split-site PhD Scholarship. Steve ensured that my curiosity turned into a more structured academic focus. Working with other students at Cardiff and attending conferences and workshops within the country and UK helped me network with others and delve into newer lines of query.
My key research interests are around community ecology, biogeography and macroecology. I studied bird communities specialised to live along rivers for my doctorate at the Wildlife Institute of India, investigating patterns of distribution and endemism in specialist river birds globally. The Himalayan mountains hold the highest diversity of specialist riverine birds. I was fortunate to study them closely, guided by Steve who dedicated thirty years of his life studying various aspects of these uniquely adapted avifauna, especially his dearest Dippers. I did field surveys in the Western Himalaya to understand how bird functional (morphological) traits and phylogenetic relatedness drive habitat affinities and elevational patterns to shape local bird assemblages.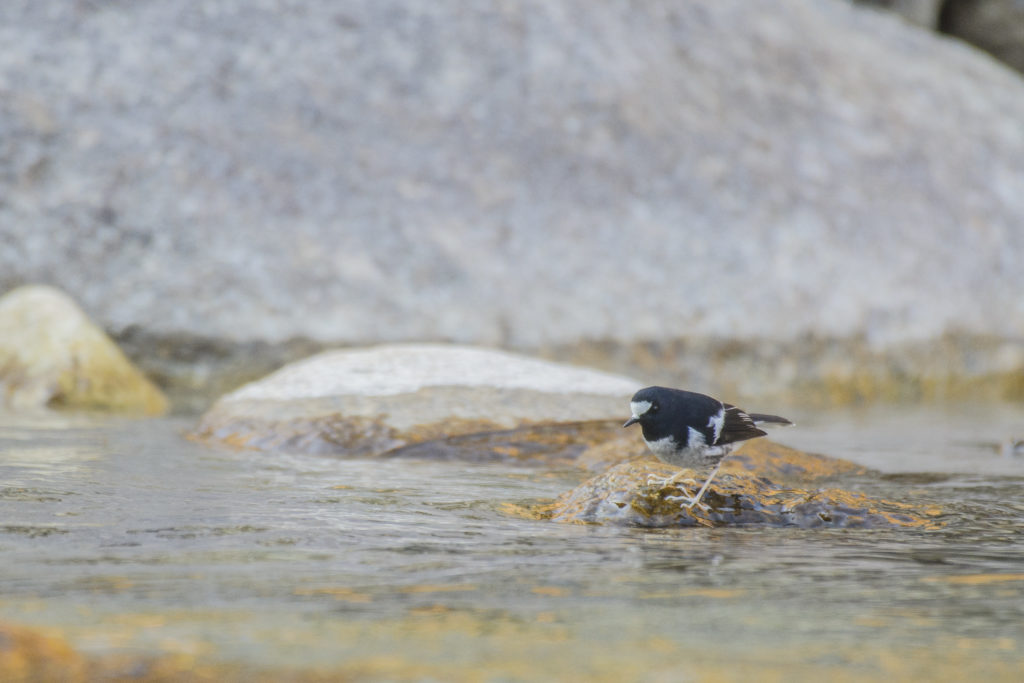 A Little Forktail patiently waiting for its fare. They are the smallest of Forktails,  insectivorous songbirds endemic to streams of South-east Asia. Image: Nilanjan Chatterjee
As an extension of this work, I collaborated with Dr Rohit Naniwadekar and his students, Rohan Menzies and  Megha Rao to understand how community patterns vary in the Eastern and Western Himalaya and the underlying processes. My current research interests are around answering questions on evolutionary drivers of adaptations (plumage, song and behaviour) in specialist riverine birds in other parts of the world.
I love what I do because..
It is a privilege to learn new things about the natural world every day and to be able to work in some of the most beautiful places on earth. The part that I enjoy the most is the balance of being indoors and outdoors. I have met some fantastic people during my few years of academic career who have kept my scientific streak ignited and given me the support to keep going. I would like to give back by helping fellow researchers find their way and grow.
The challenges I faced..
I started my research career without any formal training on wildlife techniques. I was quite intimidated when I joined the Wildlife Institute of India as a researcher and it took me a while to learn the nuances of field ecology.
Women in science have been subjected to discrimination and hostile work environment. I consider myself to be extremely privileged to have faced none of these until now. It is best to be vocal about any issues faced right from the beginning.
Something that has put my spirits down often is getting funds for answering ecological questions as an early career researcher. Working on non-charismatic or species of lesser conservation concern make it quite a task to persuade funders and sometimes a lot of extra effort to get your initial manuscripts published.
I was fortunate to work in non-protected areas mostly. But the delay in permits to work in protected areas have their own challenges which other colleagues have faced. This has made me wary of asking questions which would require me to work in national parks and sanctuaries as an independent researcher.
My advice to young researchers is..
The purpose of research is to answer curiosities and address problems. But academia is increasingly becoming a demanding profession and there is no dearth of people who are opting to leave academia globally. It is best to be forewarned that the journey from getting used to peering through the binoculars to securing a good job will be long and full of challenges. It is best to be aware of the hurdles from the experiences of others and learn to adapt as one proceeds.
Ornithological research is not just leisure birdwatching and enjoying the wilderness. It involves writing grants to secure funds, arranging logistics and networking with the right people. Being in the field and watching birds may be the most amusing part but this comes with designing a proper study to collect data, mastering analytical skills and finally disseminating results to the academic and non-academic world. A good starting point would be to learn from resources around, writing to people of relevant interests and expertise and engaging in discussions with peers.
Collaborations might help one to learn way faster than one's own efforts to self-learn. It is alright to accept we cannot master everything but we can help each other grow and contribute to science with concerted efforts. Look out for workshops, conferences, internships and scholarships to learn new skill sets and network.
We are fortunate to live in a country blessed with some of the most amazing birdlife on earth and a line of fantastic Indian ornithologists who can be easily reached out to.  So, go ahead and make the best of these!! The Basic Course in Ornithology run by the NPTEL platform can be a wonderful way to start your voyage and connect with people of your interest.
Last and definitely not the least, never neglect your mental health and do not shy away from asking help from friends, family and colleagues.
Ankita Sinha
[email protected]
PhD, Wildlife Institute of India, Dehradun
Project Scientist, National Mission on Himalayan Studies, G B Pant Institute of Himalayan   Environment, Almora
Twitter: @ankita_enicurus