Being born and brought up in a city, I would enjoy every outing in nature during treks and hikes. I was keen on taking my interest in nature ahead and getting trained formally in a field that involves studying the natural world. During 12th standard, when I was exploring options for further studies, I learnt about state agriculture universities and the vast variety of undergraduate courses they offer. One among them was Bachelors in Forestry. The College of Forestry at Dr. Balasaheb Konkan Krishi Vidyapeeth, Dapoli, in Ratnagiri district of Maharashtra, caught my eye. On digging more about the course, I was fascinated to know that the college is situated on the coast, while at the same time being close to the northern Western Ghats. I decided to study forestry with the hope to explore natural habitats, visit new places and learn various dimensions of forest management and conservation.
The best thing about the course was the hands-on training or practical part of it. It allowed me to engage closely with on-field observations. Initially I had no specific interest in any taxa; all I wanted was to spend time in the forest. Along with my seniors and friends I started observing birds and admiring the differences among species. Because watching birds was relatively easier than spotting mammals or seeing amphibians in the night (girls were not allowed to be out of the hostel after 7pm), I got attracted to birds more. Also some of my initial field trips with my college seniors were for assessing bird diversity in various parts of Konkan. Eventually, I was more familiar with birds than any other taxa. This led me to pursue avian research in various stages of my journey.
This is how my love for birds and research took shape..
During my bachelors, I started reading up more about wildlife research and soon realised that I was interested in exploring this field further. Under the guidance of my professor and now friend Dr. Vinayak Patil, we started exploring ideas on campus and he introduced me to a few wildlife researchers. Eventually this led to opportunities to volunteer with them and undertake some internships. These experiences of fieldwork, various methods, insightful discussions on wildlife research, and staying in the wilderness for substantial durations were enriching. Through such internships I learned about conferences like YETI and SCCS- Bangalore. On attending student conferences, I was overwhelmed to know the range of research happening in India and how welcoming the ecology community was. I definitely felt that I would like to be a part of this. Researchers who I had volunteered or interacted with became mentors and helped me navigate this journey. I cannot miss mentioning their names here- Jyothi Mandan, Soumya Prasad, Ushma Shukla, Mohan Joshi, Sayali Sawant, Arjun Shrivatsa, Sushant Arde, Vishal Shinde, Geetha Ramaswami, Pavithra Sankaran, Meghna Natesh and Vidyadhar Atkore have helped me in many ways. This list has been perpetually growing ever since. After B. Sc. in forestry I was keen on pursuing studies in wildlife biology. Fortunately, when I was to graduate in 2014, the NCBS-WCS Masters program in Wildlife Biology and Conservation at NCBS had an intake year. When I got shortlisted for interviews and then finally got accepted in the program, it was a completely new avenue for me. I was humbled by the experts who taught us, treated us equally and let our ideas form, reform and take shapes. Wonderful batchmates and engaging academic interactions were something that had a high impact on deciding to continue in the research field, I would say. There is so much to imbibe from researchers and field assistants in this field that I don't know what else I would enjoy if not research. One more thing that keeps me going is the fact that each question leads to an interesting discovery or understanding which further throws many questions back at us. It is not less than solving a puzzle!
My broader interest is in understanding responses of wildlife to their changing environments. Since the beginning of my journey in this field, I have been curious about hornbills. They are so majestic that one cannot miss them. Their ecology makes them fascinating species for studying. For one of the field trips during MSc, we visited Valparai plateau in the Anamalai Hills. Seeing the vast stretches of tropical rainforests, bordered by commercial monocultures of coffee and tea, the contrast in their structure and composition was hard-hitting. The region is also one of the strongholds of hornbills in the country. So I decided to study whether hornbills use plantations for breeding. If they do, are they breeding successfully? Is there a trade off between what and how they feed? I conducted this study under the guidance of Dr. Divya Mudappa and Dr. Rohit Naniwadekar– both are renowned hornbill biologists in Asia. This first set of questions involved observing these birds and their behaviour, which I really enjoyed. They opened up further aspects of hornbill ecology. Further, I continued to study them in the same landscape but digging deeper into understanding why they use these plantations. Do they show any seasonality in their use of plantations or what is it that allows them to thrive in such sub-optimal habitats?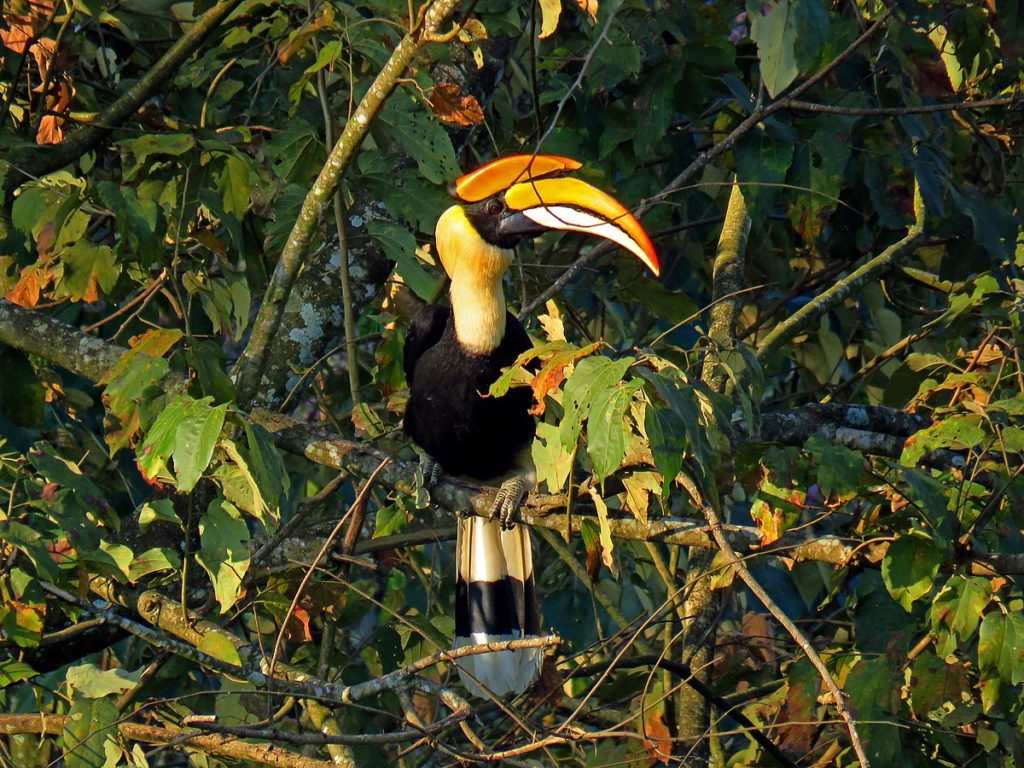 A Great Hornbill (Buceros bicornis) Image: Pooja Pawar
Currently, my research focuses on understanding the evolutionary history of hornbills and genetic consequences of biogeographic barriers and anthropogenic drivers on hornbills in the Indian subcontinent. Hornbills have originated in Africa and they then colonised Asia. I am curious to know how they reached India and when. This would give us an insight on why we observe certain traits in Indian/Asian hornbills and not in African hornbills, to put it in simple words. Within India, hornbills show patchy distributions. For example, Great Hornbill is found in the Western Ghats, northeast India and in the Western Himalayas. I would like to know when these three populations separated from each other and if they show any genetic exchange in recent times. Given that hornbill habitats are severely fragmented due to anthropogenic activities, I am curious to know if that hinders the genetic connectivity between populations. Using advanced molecular techniques, I plan to address some of these questions during my PhD. The findings of this study would help in strategizing hornbill conservation efforts in India, I believe.
I love what I do because…
Undoubtedly the fieldwork part of it. Depending on the research question and study species, one gets to explore different ecosystems, forests and various local cultures. There is so much happening in the forest that one gets to learn about taxa other than your focal one. Fieldwork is also a great opportunity to interact with local communities and get a glimpse of how they perceive forests and wildlife. Many times, experienced elephant trackers, forest department staff and members of tribal communities accompany us during surveys and studies. The stories they share, folklores associate with wildlife and the way they read forests is absolutely amazing. Indirectly they teach us how to be in the forest, how to walk and read signs of the forests.
I would like to mention one incident that has stayed with me forever. It was in the initial few days of my hornbill research in the Anamalai Hills. Moorthy anna, who has been an efficient elephant tracker with the Nature Conservation Foundation, was to accompany me in my study. He seemingly had not paid much attention to birds but he was extremely well-versed with tracking mammals, reading their signs and calls. When I would do day-long observations of hornbill nests to record what they are eating, how much they are eating and how many times parents visit the nest, etc, Murthy anna would also sit next to me carefully noticing my routine. One day, he said that these hornbills are so much like humans, his family in particular. Just like him, the daddy hornbill works hard to fetch food for the family, mommy hornbill takes care of the young ones the way his wife would do for their children. And then he sketched a Great Hornbill on a piece of paper. I think that is one of the valuable hornbill sketches that I have. This incident reminds me of how people are observant and accommodating to the wildlife. We need to engage with them and facilitate appreciation for nature and wildlife.
When Moorthy anna drew the hornbill! He has got the proportions almost right, hasn't he?
After finishing my hornbill survey, I would often accompany a team of forest watchers for their routine forest patrolling. These patrollings were opportunities for me to explore the forests that I wouldn't survey otherwise. We used to walk from one shola to another, discussing names of trees and their uses by Kadar tribes, and would pause on hearing any movement in the forest, which mostly used to be herds of Indian Gaur. On one such patrol, as I pointed to a tree to ask the watchers what it was, in the background, I saw a clump of dried leaves, which seemed a little off to me. So I focused on the clump of dried leaves and I was awestruck! It was a pair of Sri Lanka Frogmouth – one of my first sightings in the Anamalai Hills! We all were admiring its camouflage. Just about 5-7 steps away from the frogmouth pair, one of the watchers asked my pair of binoculars to look through the shola canopy. On a closer look, there was another lifer for me- Brown Hawk-Owl! The heart-shaped spots and bright yellow eyes were so pretty! Sighting nocturnal birds during broad daylight is such a treat to the eyes because you can appreciate their beauty even better!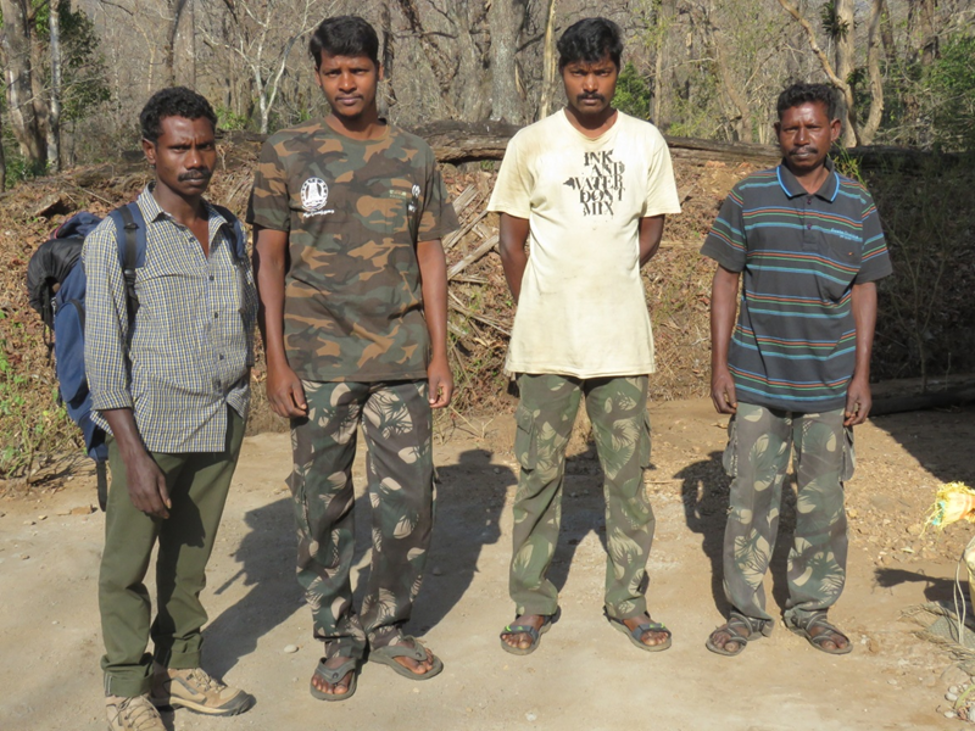 My field assistant Manikraj (left) and anti-poaching watchers of Anamalai Tiger Reserve, from whom I learnt to explore forests beyond the research.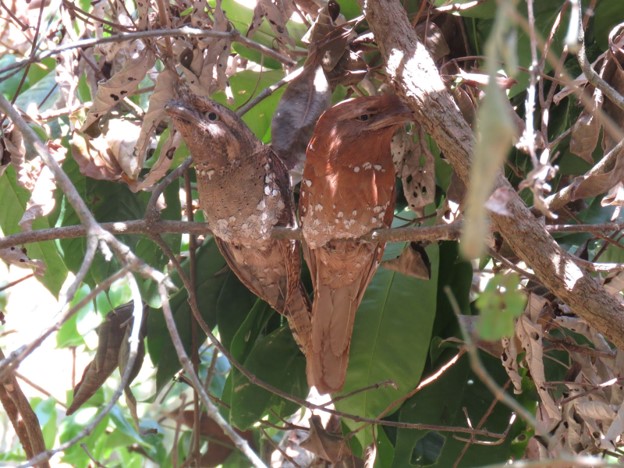 Sri Lanka Frogmouth – masters of disguise, female (left) and male (right). Image: Pooja Pawar
Another thing that I like is the community of researchers in this field. There is amazing diversity of taxa that are under study and various ways in which researchers are addressing their questions of interest. There is a strong give-and-take feedback that facilitates learning from each other, interesting conversations and at times collaborations! I am glad to have interacted with many researchers in the country and have broadened my understanding of wildlife and conservation through their experiences and findings.
While working with the Bird Count India team, I got an opportunity to interact with citizen scientists from many parts of Maharashtra. During those interactions I was humbled to know that a large number of nature enthusiasts are trying to protect and conserve nature in their own capacity. Support from scientists or subject experts in training and teaching appropriate and efficient ways of biodiversity documentation is extremely useful. Such experiences make me feel hopeful and grounded. It helped me recognise the importance of writing in regional languages too. I had never imagined the volume of work that has been generated from groups that haven't received any formal training. I believe that the beauty of working close to nature and people is that every now and then you appreciate that conservation is a group effort and everyone's contribution is valued.
The challenges I faced..
Now when I think of the challenges they may not seem very big, but in the past I did struggle a bit in figuring my way around them. One of the biggest challenges was lack of confidence to communicate, especially in English. With a lot of practice and help from my friends I got better at it. Second was constantly convincing parents to let me go on fieldtrips. Though they have always supported me, they were concerned about fieldwork given the remoteness. Initially it took a time till my parents were sure that I was in safe hands when on the field. Now they look forward to visiting my field sites when they get time!
My advice to young researchers..
With my little experience in this area of work, I don't think there is any great advice from me. I would rather tell what has worked for me and it may ring a bell for many early career researchers.
Explore a lot before making a decision to study a particular taxon or an ecosystem or even to choose this field. I spent most of my vacations during bachelors in trying my hand at different things. This helped me identify what I liked the most, what I was comfortable with, and what I didn't like as well. For example, during one expedition in the Konkan region, I realised that I am scared of reptiles, especially snakes. Handling them for whatever reason would make me extremely nervous and uncomfortable. This was useful because then I would not focus much on finding opportunities offered by researchers studying reptiles. Another example was figuring out if I like the lab-based studies or not. After volunteering on a project to document morphometric characters of lizards, I was almost sure that I would like to spend the least of my time in the laboratory.
It can happen the other way too. Such early experiences can help you in pushing your limits and get out of your comfort zone. When I visited rainforests for the first time during masters, I hated it for multiple reasons. First is the countless number of leeches crawling on me, sucking blood out at every opportunity they get. Second was the darkness in the forest which means poor visibility and low chances of detecting wildlife. I struggled to locate birds based on their calls and to remember vocalisations of so many species. And the third was being wet and damp all the time. When I was deciding on a research project for my masters, one thought I had was to try my best to get out of my comfort zone and get over some of the things that initially I felt uncomfortable with. I was successful in enjoying my time in the rainforests, I feel!
Get over the hesitation in reaching out for help. Having studied in Marathi all my life, I had a phobia of speaking in English. I would somehow manage to convey my thoughts in writing but when it would come to verbal communication, I would get conscious of my English and eventually not speak up my mind at all. I had a great company of friends and colleagues who helped me overcome this fear. They helped in correcting my sentences, reading through my drafts and suggesting ways in which I could improve.
Do look out for fellowship opportunities in India. I had heard of the exams such as UGC-NET and SET that are required to get into the teaching profession. But until very recently I wasn't aware that UGC and CSIR conduct exams, on qualifying which the candidate gets fellowship for 5 years! So if you are keen to pursue doctoral study in India, do give a shot to these exams at the earliest after your masters. They have an age limit! This advice may sound very trivial but I missed this bus and as a result I took longer (more than 5 years) to start my PhD.
Pooja Yashwant Pawar
PhD student
Nature Conservation Foundation
[email protected]
Twitter: poojap837